TUBE AMP MODIFICATIONS & CUSTOM WORK
The following is a list of amp Mod's that we do on a regular basis.
There are many more, and we may be able to do them. They are not brand or model specific. We just listen to what the customer wants from his amp and modify it to achieve this.

TUBE AMP MODS
TRANSFORMER UPGRADES & POWER CONVERSIONS
MIDI INSTALLATIONS
SWITCHING BOXES
PEDAL BOARD SETUPS & PEDAL MODS
Please Note:
We don't Mod all amps, just the ones we think are worth while.
We don't Mod solid state amps, just tube amps.
We have included approx prices only as price will vary depending on the make and model of the amp, its condition, etc. Prices include parts.

If you can't see the Mod you're after just give us a call or email and we'll tell you if we can do it.

RE-TUBE AND SERVICE.
Remove old tubes and install new ones, re-bias and service. This is the single most effective Mod which when done properly and providing that nothing else is wrong, will restore the your amp back to original tone. please see our repairs page.
GAIN INCREASE FOR AMPS WITHOUT EXTRA TUBE.
Small amounts of extra gain can be achieved with component changes in most earlier tube amps. approx. $90


GAIN INCREASE FOR AMPS WITH EXTRA TUBE.
Huge amounts of gain can be achieved with one extra 12AX7 Tube. Requires extra tube, tube socket and components. please note, this is Mod is best suited to older amps such as Marshall's. Modern multi-channels amps have the gain already and may have space limitations. $200-$250
DEPTH CONTROL/BASS BOOST.
Installing a Depth control in an amps feedback loop can boost the bottom end. Requires one pot, some components and wiring. $90
The bass from JCM900 amps can be increased with this control and other Mods. $90-$120

DUAL VOLUME MOD.
Gives 2 footswitchable master volumes. Set one higher and hit the switch and you'll be louder with the same gain for solos. Includes extra volume control, F/S socket and switching circuit. Footswitch with LED optional,. Switching is noiseless. approx $120


DUAL VOLUME AND DUAL GAIN MOD.. Gives a volume boost as well as a gain boost. Excellent for solos. Requires 2 extra pots, f/s socket and switching circuit. Footswitch with LED optional,. Switching is noiseless. approx. $180-$200 (not inc. F/S)
EXTERNAL SINGLE AND DUAL BIAS POTS.

This mod Installs a bias pots on the chassis to adjust the bias on all power tubes collectively. Alternatively, 2 bias pots can be installed. One bias pot for the outer tubes and the other bias pot for the inner tubes. This allows dissimilar tubes to be operated, i.e. EL34's for the outer tubes and 6L6's for the inner's. Also bias test points can be added to measure tube current, individually or collectively. approx $120
EFFECTS LOOP (SEND AND RETURN, TUBE).
Buffered tube output to send socket and tube gain stage on return socket. Requires one 12AX7 tube, tube socket and a small amount of components. $250


BRIGHT SWITCH. Boost the tops using a push pull pot. approx. $80
MID BOOST. Foot switchable or push pull pot. (point to point wired amps mainly) $80
HALF POWER SWITCH.
For 4 power tube amps (100watts or 30watts) reduces power to half. Requires one single poles switch for class AB amps and wiring $90. for class A, double pole switch is required plus wiring $100.
TRIODE/PENTODE SWITCH.
A Pentode tube wired for Triode operation reduces power by approx. 1/3, warms tone, and increases distortion. Switch back to Pentode for full power and brighter tone. $80-$100
POWER TUBE CHANGES.
Install 6550 in your amps for cleaner bigger sound. Requires 6550 tubes and bias change or change from 6L6's to EL34's or most other octal base tubes approx. $90 plus tubes.


HT FUSE INSTALLATION.
For all tube amps without HT fuses. Minimizes damage in the event of power tube failure. Requires one fuse holder and wiring. approx $90


VINTAGE TUBE RADIO TO GUITAR AMP CONVERSIONS.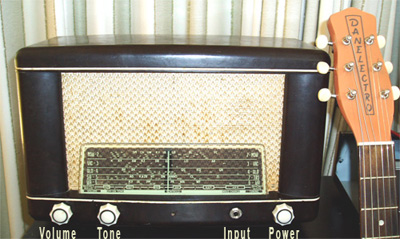 A customer found this old abandoned Vintage Tube Radio by the side of the road one day and brought it in to see if we could get it going again. After fixing several things on it like the power supply and the audio section it still was unable to receive radio signals. So not being an RF man, I gave up and it sat there on the shelf for about a year. Then one day the idea hit me, convert it to a guitar amp! So I re-worked the audio section of the amp, put in an Input socket, the Tone and Volume controls remained the same, plugged in a guitar and man does this thing scream!!! Its awesome!! No more that 3 watts and a vintage 6 inch speaker this old thing produces the dirtiest most disgusting tone I've ever heard. And yes it does clean up when you back off and sounds quite decent clean. So if you have one of these old tube radios sitting around not doing anything bring it in and I will see if we can turn it into something useful like a Vintage amp for your guitar.
Cost Approx. $200-$300 depending on what needs to be done. Also it has to have a decent speaker in it. If not, we could install a speaker out socket.
(P.S Don't tell vintage radio buffs we're doing this.) Email for quote

REVERB TANK AMPS.

Novelty tube amps made from old unwanted reverb tanks, 10 watts class A push pull output (2 x El84) with volume and tone.
or 5 - 10 watt single ended class A fitted with 1x 6550 or EL34 or 6L6 or 6V6 or anything with an octal base ) with Volume and tone.
Single ended class A 5watts with 6L6 shown. Well if you want something a little more up market please have a look at our latest product, the Angry Ant.

OUTPUT TRANSFORMER UPGARDE.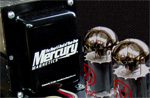 Improve the sound quality of any amp with an Output Transformer upgrade. We can fit Mercury Magnetics or one of our own Custom transformers to greatly improve tone. If your amp is fitted with a generic, low-budget, tiny, transformers you need an real transformer fitted. Email for quote
POWER TRANSFORMER UPGRADE. Tube amps need big transformers to sound good. Transformers are the first thing budget amp makers skimp on. They usually use undersized transformers that run very hot and at there limit all the time. Some makers don't even use a choke! We can fit Mercury Magnetics transformers or one of our custom transformers to improve tone and reliability. Email for quote


120v to 240v POWER TRANSFORMER CONVERSIONS.
Due to the popularity of ebay and other online shopping sites we offer a 120v to 240v power conversions service for our Australian customers importing American amps. See our Repairs page for more info.


FENDER BLUES JR. MODS.
We are often ask if we can do mods to blues junior amps and yes we do. There are many mods for this amp, we can do them all or just some, we can install new transformers or just do the electronics.

Mods Include:
Output Transformer Replacement. We Replace the undersized standard transformer with a larger Hammond one or one of our hand wound transformers for better bass response and more clarity.
Tube Replacement. We have a selection of EL84 and 12ax7's for getting the best tone out of this amp.
Tone Stack Mod. Produces Twin-like clean tone and clarity.
Adjustable Bias Mod. For setting power tube bias for best headroom or early tube break up.
Replacement Speaker, A Celstion Greenback works well with this amp but any other could be used for desired tone.
Cap Job. Replace all the signal path caps with Polypropylene "Orange Drop" caps and Silver Mica for clarity.
SwitchCraft Input Socket. Get rid of the standard plastic socket and install a heavy duty metal socket.
Standby Switch. Extend tube life by turning off the high voltages on the tubes during playing breaks.
Hum Reduction. We can sort out the amps hum and buzzing if you have these problems.
Reverb Problems. We can sort out problems that you have with the reverb of this amp.

Cheek out the testimonials on this amp.

Please email us and we can work out a price for the mods you want done.

Want something better, Handmade? Point to point wired? Well check out our little 15 watter thats far superior to this amp, the Buddy Amp.
MIDI CONTROLLED CHANNEL SWITCHING FOR AMPS.
When installed into a 2 or 3 channel amp and used with a multi effects processor and a MIDI foot
controller, your tap dancing days will be over. Without MIDI control in your amp, you would need to hit 2 buttons, one for the amp and one on the foot controller for the effects unit to get your sound. With the MIDI Mod installed in to your amp, or setup separately in its own box plugged into the amp, it will change the channels on your amp when you change patches on your effects unit, so you only hit one button on the controller to get all your sounds. And the channel changing can also be programmed like your effects unit can be. If installed into your amp, you will have a midi in socket and a small program button. Your existing channel switching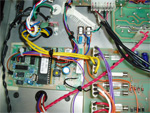 operation will not alter, but now you will use this to program your amp to change channels when you access you sounds from your effects unit. The amps channel changing can still be operated as it was before the Midi Mod was installed. Top pic: Midi Mod kit and the bottom pic: Midi Mod kit installed into a Peavey 5150 head. This Installation controls the channels, effects loop and an added boost volume for the lead channel.
For more see our Midi Mod page.


AB SIGNAL SWITCHING BOXES.


Most AB Box configuration can easily be made up. We always use high quality parts for our boxes. Most common types are:
A or B, Single button with 2 LEDs and battery $100
A or B & A + B, Dual button. with 3 led's and battery (ABC box) $120
4 in, 1 out, 4 led's, 4 button. $250-$300
All the above boxes can be adapted to be controlled by our Midi Mod module to make them MIDI controlled signal switching boxes. See our Midi Mod page for more info



FOOT SWITCHES.
Most custom footswitch can be made up or a spare sourced for any amp missing one. Price depends on the number of switches required and any additional Mods required to the amp. $80-$250